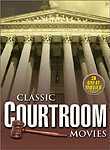 Classic Courtroom Movies: Mesmerized / Death Sentence / Dishonored Lady
Cast:

Jodie Foster, John Lithgow, Michael Murphy, Dan Shor, Harry Andrews, Philip Holder, Beryl Te Wiata, Reg Evans, Jonathan Hardy, Don Selwyn, Derek Hardwick, Nick Nolte, Cloris Leachman, Laurence Luckinbill, Alan Oppenheimer, William Schallert, Yvonne Wilder, Peter Hobbs, Hedy Lamarr, Dennis O'Keefe, John Loder, Natalie Schafer, William Lundigan, Morris Carnovsky, Douglass Dumbrille, Margaret Hamilton

Director:
This collection includes three memorable courtroom dramas. In Mesmerized, an 18-year-old girl (
Jodie Foster
) trapped in an arranged marriage to a cruel middle-aged man (
John Lithgow
) is the prime suspect in the man's death. Death Sentence focuses on a female juror for a murder trial who comes to realize her own husband is the real killer. In Dishonored Lady, the art director (
Hedy Lamarr
) of a glamorous women's magazine is suspected of murder.