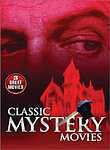 Classic Mystery Movies: And Then There Were None / Cry Panic / The Bat
Cast:

Barry Fitzgerald, Walter Huston, Louis Hayward, Roland Young, June Duprez, Mischa Auer, C. Aubrey Smith, Judith Anderson, Richard Haydn, Queenie Leonard, Harry Thurston, John Forsythe, Earl Holliman, Ralph Meeker, Norman Alden, Claudia McNeil, Anne Francis, Eddie Firestone, Agnes Moorehead, Lenita Lane, Gavin Gordon, Vincent Price, John Sutton

Director:
Thrill-seekers will delight in this mystery movie. And Then There Were None retells an Agatha Christie favorite, where visitors to a remote island are killed one by one -- and a children's nursery rhyme is the only clue. The Bat tells the tale of a haunted house with a large sum hidden inside and those desperate to find it ... even if it costs them their lives. Cry Panic is also included.