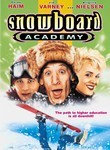 Snowboard Academy
Cast:

Director:
Hotshot snowboarding instructor Chris Berry (
Corey Haim
) shreds the slopes but finds himself out of his snowy element when a gangly, bumbling pupil (
Jim Varney
) overwhelms him. Can he shape up his protégé in time for the big downhill race -- and resist an evil temptress (the bodacious
Brigitte Nielsen
) who doesn't give out, um, incompletes? School's definitely in session.