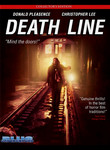 Trapped under the streets of London after a tunnel cave-in in the 19th century, a group of workers survived for years by consuming the flesh of their dead. Now, their sole descendent has surfaced to feed his appetite on the living.
Donald Pleasence
stars in this low-budget horror gem from director
Gary Sherman
, a cult classic notable for its allegorical depth, atmospheric intensity -- and stomach-turning gore.