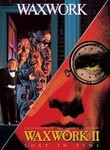 Waxwork / Waxwork II
Cast:

Zach Galligan, Deborah Foreman, Michelle Johnson, Dana Ashbrook, Miles O'Keeffe, Charles McCaughan, J. Kenneth Campbell, John Rhys-Davies, Patrick Macnee, David Warner, Clare Carey, Monika Schnarre, Martin Kemp, Bruce Campbell, Michael Des Barres, Jim Metzler, Sophie Ward, Marina Sirtis, Juliet Mills, John Ireland, David Carradine, Alexander Godunov, Maxwell Caulfield

Director:
A waxwork museum comes to town, and a mysterious man invites some teens to come to a special showing at midnight. Once the visitors enter, the exhibits come alive -- which doesn't bode well for the libidinous teens in this horror double feature. In Waxwork II, the sole surviving couple from the first movie is followed by a dismembered hand that eventually kills the girl's father, leading to a trial and some time travel to find the hand's body.