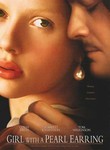 Girl with a Pearl Earring
In this cinematic adaptation of Tracy Chevalier's best-selling historical fiction novel,
Scarlett Johansson
stars as Griet, the young housemaid with a hidden appreciation for art who becomes the muse of Dutch master painter Johannes Vermeer (
Colin Firth
). Vermeer is famous for capturing the luminosity and grace of women in domestic settings. But his proud wife (
Essie Davis
) would be furious if she knew the pretty Griet was his latest subject.