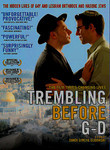 Trembling Before G-d
Cast:

Director:
Two hot-button issues -- homosexuality and religion -- are thrust together in this revealing documentary by
Sandi Simcha Dubowski
. Gay and lesbian Jews who have been cast off by their families and by religious figures are interviewed in major metropolitan areas across the globe. Even in societies where homosexuality is gaining acceptance, many of those interviewed still struggle with balancing an intolerant faith with their sexual orientation.