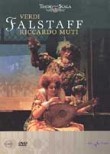 Verdi: Falstaff
Cast:

Director:
In 2001, the city of Busseto, Italy, was the site of numerous events to commemorate the century mark since composer Giuseppe Verdi's death. One of these events was a performance of "Falstaff," Verdi's last opera before his passing. Conductor Ricardo Muti and director Ruggero Cappucio took the reins for the special presentation that featured singer
Ambrogio Maestri
in the lead role and tenor
Juan Diego Florez
in the role of Fenton.