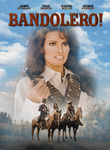 Bandolero!
Cast:

James Stewart, Dean Martin, Raquel Welch, George Kennedy, Andrew Prine, Will Geer, Clint Ritchie, Denver Pyle, Tom Heaton, Rudy Diaz, Sean McClory, Harry Carey Jr., Don "Red" Barry, Guy Raymond, Perry Lopez, Jock Mahoney, Dub Taylor, Big John Hamilton, Bob Adler, John Mitchum, Patrick Cranshaw, Roy Barcroft

Director:
A man (
James Stewart
) poses as a hangman in order to free a gang of jailed outlaws led by his brother (
Dean Martin
). Trailed by a posse (led by
George Kennedy
) into the forbidding bandolero country of Northern Mexico, the brothers take a shapely hostage (
Raquel Welch
) who could -- make that
will
-- cause dissension in the ranks. Directed by
Andrew V. McLaglen
.