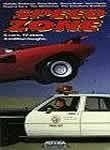 Speed Zone!
Cast:

John Candy, Donna Dixon, Matt Frewer, Joe Flaherty, Tim Matheson, Mimi Kuzyk, Melody Anderson, Shari Belafonte, Brian George, Art Hindle, Dick Smothers, Tom Smothers, Peter Boyle, Don Lake, John Schneider, Jamie Farr, Lee Van Cleef, Harvey Atkin, Eugene Levy, Brooke Shields, Alyssa Milano, Louis Del Grande, Carl Lewis

Director:
In this third installment of the Cannonball Run franchise, an all-star comic cast participates in an illegal cross-country race while Police Chief Spiro T. Edsel (
Peter Boyle
) tries to stop the annual event from taking place. With the Jaguars, Lamborghinis and Ferraris revved up and ready to roar, you better buckle up for a wild ride with
John Candy
,
Tim Matheson
,
Jamie Farr
,
Brooke Shields
and more.