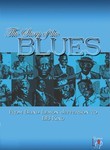 The Story of the Blues
Cast:

Director:
Putting a label on the blues sound used to be a much simpler task. But since the genre has transformed itself and evolved into what it is today, it's not so straightforward. From the early days (when the music was used to pass time doing fieldwork) to the legendary sounds of
B.B. King
, blues has remained an iconic part of music history. This documentary explores the major guiding principles behind the genre and consults top blues musicians.