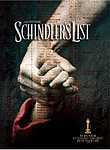 Schindler's List: Disc 2
Cast:

Liam Neeson, Ben Kingsley, Ralph Fiennes, Caroline Goodall, Jonathan Sagall, Embeth Davidtz, Malgoscha Gebel, Shmulik Levy, Mark Ivanir, Beatrice Macola, Friedrich von Thun, Krzysztof Luft, Harry Nehring, Adi Nitzan, Michael Schneider, Miri Fabian, Anna Mucha, Albert Misak, Michael Gordon (II), Aldona Grochal, Jacek Wojcicki, Beata Paluch, Piotr Polk, Ezra Dagan, Beata Nowak

Director:
Liam Neeson
stars as Oskar Schindler, a greedy German factory owner made rich by exploiting cheap Jewish labor. But as World War II unfolds, he becomes an unlikely humanitarian, spending his entire fortune to help save 1,100 Jews from Auschwitz. Co-starring
Ralph Fiennes
,
Steven Spielberg
's holocaust epic won seven Academy Awards (including Best Picture) and is an unforgettable testament to the possibility of human goodness.