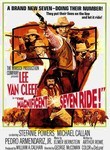 The Magnificent Seven Ride
Cast:

Lee Van Cleef, Stefanie Powers, Michael Callan, Mariette Hartley, Luke Askew, Pedro Armendáriz Jr., Ralph Waite, Melissa Murphy, William Lucking, James Sikking, Ed Lauter, Allyn Ann McLerie, Gary Busey, Robert Jaffe, Elizabeth Thompson, Carolyn Conwell, Ron Stein, Rita Rogers

Director:
Marshal Chris Adams (
Lee Van Cleef
, in the role Yul Brynner made famous in The Magnificent Seven) has lost his wife and embarks on a mission to rescue a group of women who have been captured by bloodthirsty bandits. With the help of a ragtag group of convicts, Adams hopes to even the odds and deliver the women out of harm's way. Co-stars
Stefanie Powers
and
Gary Busey
.