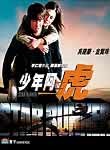 Star Runner
Cast:

Director:
Mei Chung (Hyun-joo Kim) leaves Korea for Hong Kong after a love affair ends badly. She arrives in the country ready to become a language teacher and begin a new life. When Bond Cheung (
Vanness Wu
), one of her students, decides to fulfill his dream of boxing against world champion freestyle fighter Tank (
Andy On
), Mei finds herself drawn into an exciting and dangerous world … and a new romance.