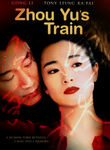 Zhou Yu's Train
Cast:

Director:
This captivating movie directed by
Zhou Sun
shows just how circuitous the path to true love can be. Zhou Yu (
Gong Li
), a painter, lives hundreds of miles away from her paramour, a poet, Chen Qing (
Tony Leung Ka Fai
), who toils at a library. To see him, she must take a long train ride, which she doesn't mind. That is, until she meets Zhang Qiang, a hard-bitten veterinarian who makes her put the only love she knows on the line. But is it worth it?