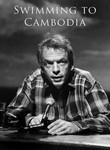 Swimming to Cambodia
Cast:

Director:
Director
Jonathan Demme
captures monologuist
Spalding Gray
spinning his brilliant conversational web in this one-man reminiscence (based on his hit Broadway show) about his small role in the 1984 movie The Killing Fields. Gray muses on the abundance of drugs and sex in Southeast Asia, as well as the politics of the unstable region. Gray also tosses in a few ruminations about New York City, where this performance is filmed.