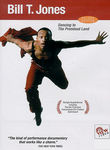 Bill T. Jones: Dancing to the Promised Land
Cast:

Director:
Celebrated choreographer
Bill T. Jones
is known for concocting dances unlike any other. Melding concept with physical grace, Jones explores the politics of real life in his work, infusing it with social issues pertinent in today's society. This dance documentary traces the creation of one of his most famous pieces, "Last Supper at Uncle Tom's Cabin/The Promised Land," and examines why it remains one of Jones's most unforgettable shows.