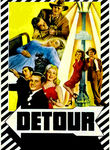 Film Noir Collection: Detour
Cast:

Director:
Classic film noir rules when down-in-the-dumps musician Al Roberts (
Tom Neal
) decides to hitchhike cross-country to be with his chanteuse girlfriend. He accepts a lift from high-roller Charles Haskell Jr. (
Edmund MacDonald
), who promptly suffers a fatal coronary. Afraid the cops will finger him as a killer, Al ditches the body and assumes Haskell's identity. But Al's trip quickly goes downhill when he picks up a scheming hitchhiker (
Ann Savage
).