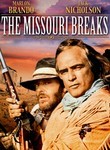 The Missouri Breaks
Cast:

Marlon Brando, Jack Nicholson, Randy Quaid, Kathleen Lloyd, Frederic Forrest, Harry Dean Stanton, John McLiam, John P. Ryan, Sam Gilman, Steve Franken, Richard Bradford, James Greene, Luana Anders, Danny Goldman, Hunter Von Leer, Virgil Frye, R.L. Armstrong, Dan Ades, Dorothy Neumann

Director:
Laid-back rustler Tom Logan (
Jack Nicholson
) and his gang buy a ranch next to their new target: rich landowner Braxton (
John McLiam
). While Logan courts his neighbor's daughter (
Kathleen Lloyd
), Braxton gets wind of the rustling plot and hires gunman Lee Clayton (
Marlon Brando
) to do the dirty work. Brando delivers an inspired, bizarre performance as the cross-dressing, perfume-soaked hit man in
Arthur Penn
's off-kilter Western.