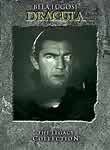 Dracula (Spanish Version) / Dracula's Daughter / Son of Dracula / House of Dracula
Cast:

Carlos Villarias, Lupita Tovar, Barry Norton, Pablo Alvarez Rubio, Otto Kruger, Gloria Holden, Marguerite Churchill, Edward Van Sloan, Gilbert Emery, Robert Paige, Louise Allbritton, Evelyn Ankers, Frank Craven, Lon Chaney Jr., John Carradine, Martha O'Driscoll, Lionel Atwill, Onslow Stevens

Director:
This Spanish-language version of Dracula was filmed at the same time as the original 1931 movie … on the same sets! In Dracula's Daughter, a female vamp (
Gloria Holden
) is just batty for female victims. In Son of Dracula, a man named Alucard turns up in the Deep South with something other than sipping mint juleps on his mind. In House of Dracula, a well-meaning scientist (
Onslow Stevens
) tries -- unsuccessfully -- to "cure" various monsters.