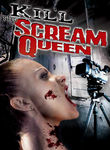 Kill the Scream Queen
Cast:

Deborah Dutch, Heather Taylor, Rachel Plaster, Rachel DeGenaro, Jillian Gold, Kerri Taylor, Isabelle Stephen, Debbie D, Sica, Elena Kagan, Bill Zebub

Director:
Young women dreaming of making it big in Hollywood are led to believe they're on their way to stardom, but the only place they're headed is "six feet under" in this disturbing film. A sadistic filmmaker puts out a casting call for scream queens for his horror movie, then ties up the young female starlets and kills them to make a snuff movie.
Kerri Taylor
,
Debbie D
utch,
Heather Taylor
,
Elena Kagan
,
Rachel DeGenaro
and Rachelle Plaster star.