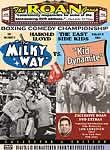 Milky Way / Kid Dynamite: Double Feature
Featuring two classic boxing comedies, this video packs a sidesplitting double punch. In The Milky Way, a milquetoast milkman (
Harold Lloyd
) rises to boxing fame in a series of rigged fights, but can he survive his final bout and win the girl?
Adolphe Menjou
and Lionel Stander costar. Kid Dynamite sees puerile bully "Muggs" McGinnis (
Leo Gorcey
) turn against his upstanding friend Danny Lyons (
Bobby Jordan
); can Danny whip Muggs into manhood?