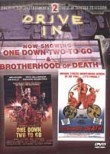 One Down Two to Go / Brotherhood of Death: Double Feature
It's double trouble -- courtesy of some butt-kicking he-men -- in a couple of features that will have you crying "uncle!"
Richard Roundtree
stars as a kung fu promoter who gets ripped off in One Down Two to Go, a blaxploitation action flick that features
Fred "The Hammer" Williamson
,
Jim Brown
and
Jim Kelly
. In Brotherhood of Death, Vietnam veterans fight a war on the mean streets … against members of the Ku Klux Klan. Nasty!