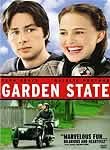 Garden State
Cast:

Director:
Andrew Largeman (
Zach Braff
, who also directed) returns to his hometown in New Jersey after a decade away to attend his mother's funeral. Having just weaned himself off antidepressants, the young man begins to see his life in a new light, which leads him to confront his psychologist father (
Ian Holm
) and forge a connection with a new friend (
Natalie Portman
). This whimsical comedy premiered at the 2004 Sundance Film Festival.