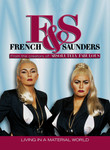 French & Saunders: Living in a Material World
Cast:

Director:
This BBC comedy series features future "Absolutely Fabulous" writer-actress
Jennifer Saunders
and "Vicar of Dibley" star
Dawn French
. In a series of sketches, they poke fun at everything from American television to pop-culture icons to foreign film. Nothing is safe from French and Saunders's skewering wit: Mel Gibson and Ingmar Bergman, "Baywatch" and Batman, Dr. Quinn and Björk all receive serious spoofing in this hilarious show.