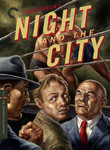 Shot in London,
Jules Dassin
's film noir centers on grifter Harry (
Richard Widmark
), who schemes to take over wrestling promoter Kristo's (
Herbert Lom
) racket. Harry pits Kristo's father, Gregorius, against his own son and convinces nightclub owner Phil (
Francis L. Sullivan
) to invest in his scheme. But his plan falls apart when Gregorius is killed and Phil learns that his wife (
Googie Withers
) is leaving him for Harry.
Gene Tierney
also stars.