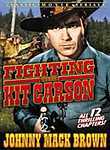 Fighting with Kit Carson Serial: Chapters 1-12
Cast:

Director:
Legendary American frontiersman Kit Carson (
Johnny Mack Brown
) escorts a shipment of gold across the rough-and-tumble plains in this vintage 12-episode serial. Following an ambush on their convoy, Carson's friend Matt Fargo (
Edmund Breese
) ferrets the gold away, but fur trader Cyrus Kraft (
Noah Beery
) and his hooded Mystery Riders will risk all to grab the treasure. Directed by
Colbert Clark
and
Armand Schaefer
.