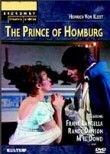 Broadway Theatre Archive: The Prince of Homburg
Cast:

Director:
During an invasion by the Swedish army, the Prince of Homburg (
Frank Langella
), a 17th century Prussian nobleman, disobeys his military orders. Although his bold decision leads to the enemy's defeat, the prince still finds himself sentenced to death. Penned by dramatist Heinrich von Kleist shortly before his tragic suicide, this existential edition of the Broadway Theatre Archive series examines reality, dreams, cowardice and daring.