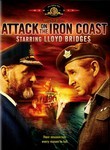 Attack on the Iron Coast
Cast:

Lloyd Bridges, Andrew Keir, Sue Lloyd, Mark Eden, Maurice Denham, Glyn Owen, Howard Pays, Walter Gotell, John Welsh, George Mikell, Ernest Clark, Dick Haydon

Director:
Despite being haunted by past missions in which many of his men perished, Maj. James Wilson (
Lloyd Bridges
) sets out with his top-notch team of commandos to destroy a prized Nazi stronghold on the coast of France. Assigned to the same task are a crew of British seamen and their captain (
Andrew Keir
) -- who's holding a grudge against the maverick Wilson. Will bad blood and the overwhelming odds doom the Allies and their operation?