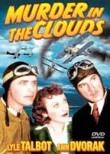 Murder in the Clouds
Cast:

Director:
Mile-high mayhem reigns in this aerial adventure involving hotshot pilots, parachuting thieves and a secret formula for a new weapon. All hell breaks loose when ace aviator Bob Halsey (
Lyle Talbot
) is tagged to fly the scientist and his formula to Washington, D.C. But when foreign agents blow up the plane in midflight, the race is on to locate the wreckage and get the mixture back before the baddies find it and flee the country.