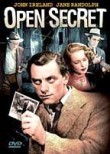 Open Secret
Cast:

Director:
When their friend goes missing, newlyweds Paul and Nancy Lester (
John Ireland
and
Jane Randolph
) learn that he was murdered by members of a neighborhood organization over photos he took that threatened to expose their anti-Semitic agenda. Now Paul and Nancy find themselves in the hate group's crosshairs as they relentlessly track down the incriminating photographs.
John Reinhardt
directs this socially conscious film noir.