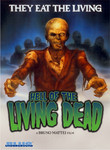 Hell of the Living Dead
Cast:

Director:
When a chemical leak at a remote research lab in Papua New Guinea transforms the staff into zombies with a taste for human flesh, a commando team led by fearless Mike London (José Gras) heads into the jungle to investigate. Along the way, the squad meets a news crew chasing the story, but soon they're all on the run as the contagion spreads and threatens to overtake the rest of the world.
Margit Evelyn Newton
also stars.