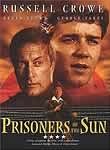 Prisoners of the Sun
Cast:

Director:
After discovering that Japanese guards tortured and massacred hundreds of Australian soldiers at a World War II internment camp, determined Australian prosecutor Capt. Cooper (
Bryan Brown
) fights to bring those responsible for these atrocities to justice. Based on real-life events, this intense courtroom drama also stars
Russell Crowe
,
George Takei
,
Terry O'Quinn
,
John Polson
and
Deborah Kara Unger
.