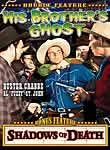 His Brother's Ghost / Shadows of Death: Double Feature
Cast:

Buster Crabbe, Al St. John, Charles King, Dona Dax, Karl Hackett, Edward Hall, Archie Hall, Bob Cason, Roy Brent, Bud Osborne, Frank McCarroll, George Morrell

Director:
This double-feature collection offers two times the action with a veteran cast of characters (
Buster Crabbe
,
Al "Fuzzy" St. John
,
Charles King
,
Karl Hackett
and
Archie Hall
) in recurring roles. In His Brother's Ghost, good guy Billy Carson harnesses the spirit of a murdered rancher to run a group of bandits out of town. In Shadows of Death, Carson returns to help Sheriff Fuzzy Jones battle a gang of raucous gunslingers.