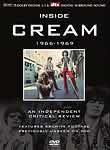 Inside Cream: 1966-1969
Cast:

Director:
This authoritative, critical review analyzes every
Cream
album with an eye toward reassessing the work of the legendary 1960s band. You'll learn which songs or albums of theirs worked -- and which didn't -- and why. Featured tracks include "Sunshine of Your Love," "Politician," "White Room," "I Feel Free" and more. The video also includes rare archive film and television footage of
Cream
in concert.