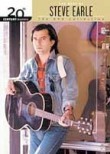 20th Century Masters: The Best of Steve Earle
Cast:

Director:
He's a little bit country and a little bit rock 'n' roll. Drawing from the best of both genres, singer, songwriter and guitarist
Steve Earle
has fashioned a successful career with a sound that defies strict categorization. By refusing to follow the rules, Earle's earned the admiration of fans from all camps. This collection of videos from the unconventional artist includes the songs "Someday," "Guitar Town," "Copperhead Road" and two others.