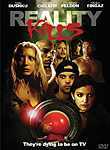 In the new season of a popular reality-TV program pitting seven contenders against one another, the show's inventive producer raises the intensity by moving the action to an isolated farmhouse with a sinister caretaker. Before you know it, a cameraman's mangled corpse sows the seeds of paranoia on the set: Is his death real or just a ratings ploy?
Julie Ann Emery
,
Timothy Lee DePriest
and
Kristen Miller
star in this gory slasher flick.