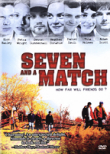 Excited to see her old college friends again, Ellie (
Tina Holmes
) stages an impromptu reunion at her New England home. But in addition to rekindling old relationships, she also has an ulterior motive: She wants her friends' help in setting her house on fire.
Derek Simonds
's directorial debut stars a slew of familiar faces, including
Eion Bailey
(Center Stage),
Heather Donahue
(The Blair Witch Project) and
Devon Gummersall
("My So-Called Life").