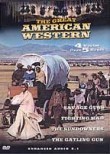 The Great American Western: Vol. 12
Settle in for a Wild West marathon with this collection of four classics.
William Stowell
stars as Lambert, a good man worn down by a nefarious gambler, in "Fighting Mad" (1917). In "The Sundowners" (1950), James Cloud (
Robert Preston
) is forced to battle his own sibling. An ex-confederate soldier protects a small town in "The Savage Guns" (1971). And "The Gatling Gun" (1972), featuring
Guy Stockwell
, chronicles the history of the firearm.