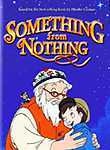 Something from Nothing
Cast:

Director:
Based on best-selling author Phoebe Gilman's children's book, this beautifully animated video weaves a spellbinding story of love, hope and renewal that celebrates Jewish culture and traditions. The charming tale follows the adventures of a boy, his beloved Grandpa (voiced by
Al Waxman
) and his friend Mazel the mouse, who accompanies the lad everywhere. In a bonus feature, kids can "meet" Gilman and hear her read some of her stories.