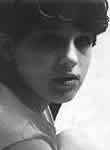 Paradox Lake
Cast:

Director:
In search of a new beginning, Matt (
Matt Wolf
), a 20-something Manhattanite, takes a job as a volunteer counselor at a camp for autistic children in upstate New York. Once there, however, he's both frustrated and amazed by his charges' ability to create their own worlds -- mostly because he doesn't know how to gain entry. Can a cartoon-loving young camper (
Jessica Fuchs
) teach him the secrets to breaking through?