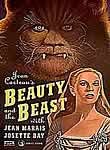 Beauty and the Beast
Cast:

Director:
An impoverished merchant (
Marcel Andre
) plucks a rose from a magical castle's garden to give to his daughter Belle (
Josette Day
), evoking the ire of the manor's master: a handsome prince cursed to live as a feral beast (played by
Jean Marais
). But he agrees to spare the tradesman's life on condition that Belle take her father's place. Director
Jean Cocteau
's masterwork features sparkling surreal imagery and won the prize for Best Score at Cannes.