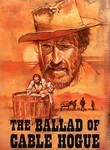 The Ballad of Cable Hogue
Abandoned in the desert, prospector Cable Hogue survives his ordeal when he discovers a freshwater spring. Transforming the oasis into a much needed pit stop on the local stagecoach route, the resourceful Hogue sits back to wait for his double-crossing former partners.
Jason Robards
shines in the title role of this lighthearted Western, a film characterized more by picaresque comedy than by director
Sam Peckinpah
's signature violence.