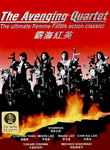 The Avenging Quartet
Cast:

Director:
Directed by
Siu Wing
, this 1990s action-thriller follows the efforts of Chin (
Cynthia Yang
), a beautiful Chinese agent, to recover a priceless painting. After her investigation moves to the nearby island of Hong Kong, she teams with a female kung fu master (
Moon Lee
) to apprehend a powerful Japanese gangster (
Michiko Nishiwaki
) who's taken off with a national treasure.
Yukari Oshima
and
Waise Lee
co-star in this popular "girls with guns" flick.