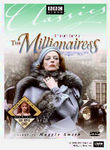 The Millionairess
Cast:

Director:
When wealthy Epifania (
Maggie Smith
) and unassuming Egyptian doctor Ahmed el Kabir (
Tom Baker
) fall in love, they discover two financial obstacles in their path: Before marrying, she must live on a pittance for six months, while he has to convert a meager sum into a fortune. It's a tall order for the cosmopolitan Epifania, who's accustomed to getting her way.
William Slater
directs this adaptation of George Bernard Shaw's play.