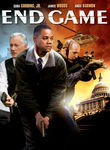 When the Secret Service fails to avert an attempt on the president's life, lead agent Alex Thomas (
Cuba Gooding Jr.
) blames himself for the assassination and becomes obsessed with solving the case on his own with help from gutsy reporter Kate Crawford (
Angie Harmon
). But to find the source of a far-reaching conspiracy, Thomas must sift through a tangled web of lies and deceit.
Burt Reynolds
,
James Woods
and
Anne Archer
co-star.