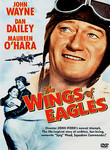 The Wings of Eagles
Cast:

Director:
Oscar-winning director
John Ford
helms this high-flying biopic of World War I-era Cmdr. Frank "Spig" Wead (
John Wayne
), a pilot who became a screenwriter when a serious injury grounded his career. In one interesting twist, the real-life Wead was actually a good friend of Ford's and wrote the script for his WWII picture They Were Expendable (1945). In another,
Ward Bond
co-stars as a filmmaker who is based on the real-life Ford.