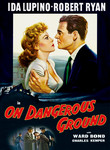 On Dangerous Ground
Cast:

Ida Lupino, Robert Ryan, Ward Bond, Charles Kemper, Anthony Ross, Ed Begley, Ian Wolfe, Gus Schilling, Frank Ferguson, Olive Carey, Richard Irving

Director:
A jaded, bitter detective (
Robert Ryan
) is on the hunt for a killer, following a trail from the grimy city streets to the snow-blanketed countryside. In an odd psychological twist, he meets the killer's sister, a sweet blind woman (
Ida Lupino
) who takes care of her brother and wants his life spared. Director
Nicholas Ray
(Rebel Without a Cause) deftly shifts landscapes and moods as Bernard Herrmann's atmospheric score drifts underneath.