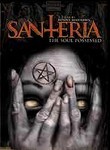 After receiving an ancient Eucharist as a birthday present, 9-year-old Ricky Banda finds himself trapped inside his house, along with his unsuspecting Aunt Leti and his cousin Sara. Held hostage by a dark force that's beyond their understanding, the trio fights to stay alive ... but only one of them will live to tell the tale.
Maria Fonseca Sotolongo
,
Kevin Rankin
and
Rico Thurwalker
co-star in this chilling horror drama based on actual events.