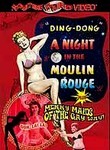 Ding Dong / Merry Maids of the Gay Way
Cast:

Director:
Two vintage burlesque films celebrate the female form in all its glory. In Ding Dong, headliner Illona (aka "the Bavarian Orchid") plays peek-a-boo inside California's Moulin Rouge Theatre. In the bonus feature Merry Maids of the Gay Way, the Magnificent Zabouda heads a cast of voluptuous beauties, including
Cherri Lee
("the New Orleans Pepper Pot"), Betty Shay ("the India Rubber Girl") and Taffy Terrell ("the Kandy Kid from Texas").